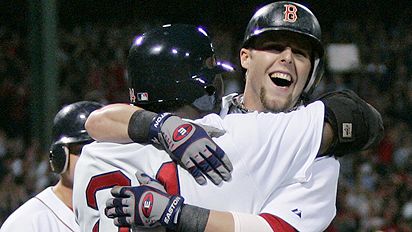 They did it! after being down 3-1 in the series, the Red Sox powered their way back outscoring the Indians 30-5 in the final 3 games of the series to earn the right to play the Rockies in the World Series.

Even my favorite whipping boy, J.D. Drew, got into the act hitting a first inning grand slam in Saturday's game. Sorry about all that "J.D. Drew SUCKS" talk all season guy, YOU ROCKED in a big spot! Even Eric Gagne got into the act Saturday pitching a perfect ninth inning. You still suck though, Eric. Any schmuck can close out a game with a 10 run lead!

Dice-K came up huge Sunday and we're ready to take on the Rockies.

ON TO THE WORLD SERIES (and another week and a half of sleep deprivation)!